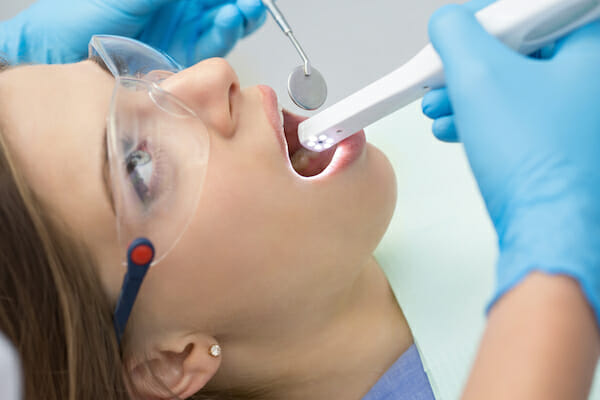 At DDS Family Dental, we strongly believe that educating our patients about their oral health status and treatment options can produce healthier and brighter smiles that will last a lifetime. One of the ways we help educate you about your care is through the use of our intraoral cameras.
An intraoral camera is a hand-held, wand-like tool with a tiny camera that is equal to the about the size of a dental mirror. It allows us to look at your teeth from angles that are normally impossible to view with the naked eye, allowing our dental experts to look right through the structure of the tooth and spot any cavities or abnormalities with remarkable accuracy. While large cavities are easy to detect, smaller cavities are sometimes harder to see. It is crucial to look for small cavities, however, so they can be filled before they continue to grow and decay. With intraoral cameras, we are able to detect even the smallest of cavities before they progress into bigger ones.
The intraoral camera is initially wrapped with sterilized plastic protection and then placed in the patient's mouth. It slides over each tooth and captures an image with a secure light. The enamel of the tooth reflects back the light to the imaging lenses of the camera, where as the decayed part of the tooth tends to absorb light. The images of the oral cavity are transmitted over to the monitor instantly for our team to review. When used during routine dental examinations, the intraoral camera allows us to recognize possible oral health concerns before they turn into major health problems. It is also a useful tool for showing our patients exactly what is going on in their mouths and serves as a good visual aid for oral health education.
One of our top priorities at DDS Family Dental is the use of the newest and most effective technology in our field, which is why we are excited to use the intraoral camera during your dental check-ups. If you have questions about intraoral camera or would like to learn more about our dental technology, give us a call today.